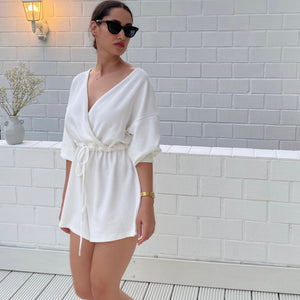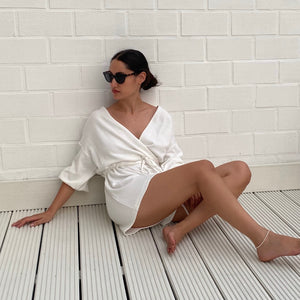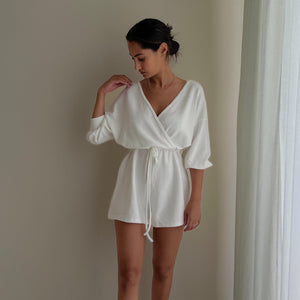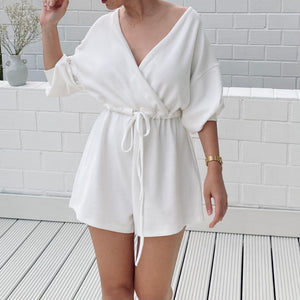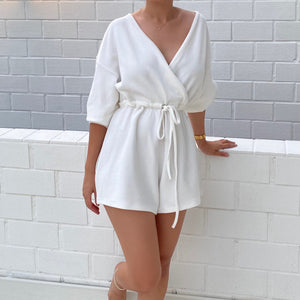 Product Details
The White Ribbed Playsuit is a highly versatile piece of fashion that you can wear to any kind of event that you can think of. It is ideal for your everyday duties such as work or for special occasions in the evening. In case you have to work from your home office but want to keep a professional appearance the White Ribbed Jumpsuit is your perfect fit. 
Material: 100% cotton

Adjustable belt

V-Neck Playsuit
Shipping
We offer free Shipping for orders above 40,00€. Shipping usually takes between 7-14 business days. Easy returns up to 14 days after delivery here.
We offer Free Shipping on all of our products. You can return items that you do not wish to keep up to 60 days after delivery.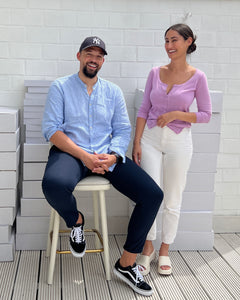 R O S Y L E I A ® (form. Rosalia) was founded in 2019 by Rosa & Michael in Cologne Germany. Two friends from High School having the ambition to create an online boutique that focuses on quality clothing pieces designed to last. In times of fast fashion and high volatility of trends arising, we want to offer fashion that has its own stability and awareness of what fashion actually is.

We are based in Germany but we work closely with production facilities in East Asia and Portugal. We constantly audit the quality of our partners to guarantee that they overlap with our brand culture. Steadily improving the customer experience is the core driving force for upcoming additions to the collection. We are here to give value and that is our main objective.

The motivation of Rosa who is responsible for the creative part is to connect with a small group that is looking for the same pieces that she always felt were missing in her wardrobe. Thereby not focusing on the biggest audience possible but rather identifying with people who feel the same way. We not only try to connect with you through fashion but also by sharing ideas and thoughts in the form of multidisciplinary blog posts that will be shared on our website.