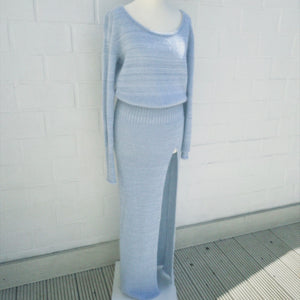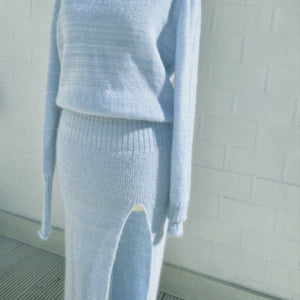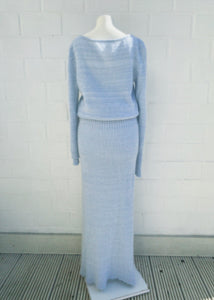 Product Details:
A single piece from our studio. 
Material: 100% mohair
Fabric is extremely soft and delicate
Made in Germany
Size: S-L

Excluded from exchange



Care instructions: Wash in a sweater bag. The material is temperature sensitive and should be washed using a cold wash cycle, at a maximum of 30 degrees. Lay flat and air dry.
Shipping & Returns
We offer free Shipping worldwide. You will get your product within 7-14 working days. Easy 14 day return from delivery date. 
Product Enquiry
Have a question about this product? Contact us at info@rosaliafashion.com
Creating a winter wonderland piece that strikes a balance between casual and chic was a fun experience for our team. Our atelier crafted this special one-of-a-kind dress for a discerning client of Rosyleia. This dress brings together two contrasting styles - the casual top with a long sleeve and a relaxed fit and a chic maxi skirt with a thigh-high slit.
The winter wonderland theme is highlighted by the choice of baby blue color and 100% fine mohair knit material. The dress is perfect for winter events, striking the right balance between overdressed and underdressed.
However, our aim was to create more than just a dress. We wanted to evoke a sense of harmony in the wearer and anyone who sets their eyes on it. The dress combines several contradictions: chic yet casual, new yet familiar, cool yet warm, simple yet special. It is a dress that evokes a feeling of balance, creating a subtle sense of calmness and tranquility.
The use of high-quality materials, a subtle touch of classic style, and a clean and simple overall look make this dress a lifetime piece. The dress's clean lines and understated elegance make it a versatile piece that can be styled up or down depending on the occasion.
We take pride in creating a dress that is not just an outfit but an experience. Our winter wonderland dress combines different styles and materials to create a unique piece that brings a sense of harmony and balance to the wearer.
We offer Free Shipping on all of our products. You can return items that you do not wish to keep up to 60 days after delivery.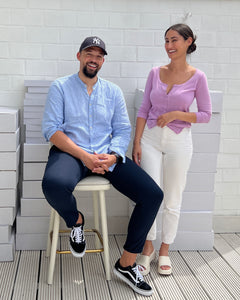 R O S Y L E I A ® (form. Rosalia) was founded in 2019 by Rosa & Michael in Cologne Germany. Two friends from High School having the ambition to create an online boutique that focuses on quality clothing pieces designed to last. In times of fast fashion and high volatility of trends arising, we want to offer fashion that has its own stability and awareness of what fashion actually is.

We are based in Germany but we work closely with production facilities in East Asia and Portugal. We constantly audit the quality of our partners to guarantee that they overlap with our brand culture. Steadily improving the customer experience is the core driving force for upcoming additions to the collection. We are here to give value and that is our main objective.

The motivation of Rosa who is responsible for the creative part is to connect with a small group that is looking for the same pieces that she always felt were missing in her wardrobe. Thereby not focusing on the biggest audience possible but rather identifying with people who feel the same way. We not only try to connect with you through fashion but also by sharing ideas and thoughts in the form of multidisciplinary blog posts that will be shared on our website.